UBC graduate student Alejandrina Alvarez Debrot has been awarded with the 2021 Joan Donaldson CBC News scholarship, a paid four-month internship considered one of the most prestigious to Canadian journalism students. Debrot, a second-year student in the Master of Journalism program, is expected to work at The National, CBC Calgary, and The Fifth Estate this summer. 
Eleven other students from journalism programs across Canada were awarded the scholarship this year. The scholarship recipients get hands-on experience in all areas of multi-platform news, including digital, radio and television. They can work behind the scenes, on-air, or both.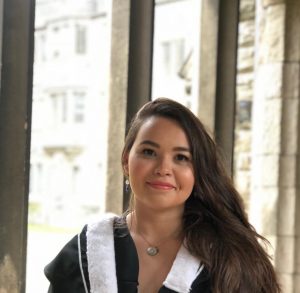 "This scholarship means a lot to me not only because I get to work with Canada's best journalists but also because I'm an immigrant," said Debrot, who was born in Caracas and spent most of her years there until graduating from high school.
"If you had told 18-year-old me, who was living alone in a new country for the first time, that in seven years this is where I would be, I wouldn't have believed you," she said. 
CBC experience
Debrot is a Venezuelan-Canadian journalist who immigrated to Canada in 2014. She graduated from the University of Toronto with a degree in political science in 2018.
She has previously worked for CBC on the corporation's flagship program, The National, as part of her internship training. She has also worked as a screener and a digital production assistant at CBC's call-in radio show, Cross-Country Checkup. 
During her time in the UBC Master of Journalism program, Debrot reported on Canada's discriminatory visitor visa selection process and Vancouver woman's body image issues for the school's in-house publication, The Thunderbird. 
Debrot was part of the award-winning program, Reporting in Indigenous Communities, in 2020 where she covered Cheam First Nation's attempts at salmon habitat restoration, along with second-year student Riley Tjosvold. Their story was part of the Adapt series, a collaboration between ten students who reported on different ways First Nations in British Columbia are responding and adapting to climate change, and won the silver award in the Best Article or Series category at the annual Canadian Online Publishing Awards (COPA). 
Recipients of the Donaldson Scholarship are chosen based on their academic performance and commitment to public service journalism. Last year, alum Jasmine Mani received the scholarship and worked as a radio, web and TV reporter for CBC News in their Vancouver and Toronto newsrooms.
The Joan Donaldson scholarship was founded in 1999 in recognition of Joan Donaldson, the founder of CBC Newsworld, now the CBC News Network.