Students and faculty of the UBC School of Journalism, Writing, and Media were honoured with awards at the annual Canadian Online Publishing Awards (COPA) in recognition for their excellence in reporting and producing digital stories. They took home five awards, including one gold and three silver awards in the academic category and one silver award in the consumer category, after a total of six nominations. 
The COPA 2020 winners were announced on Feb. 4 in an online format. Among them were UBC journalism students Akshay Kulkarni (gold award, academic category) and Stéphane Lavoie (silver award, academic category), Reporting in Indigenous Communities class (silver award, academic category), and faculty members Chantelle Bellrichard (silver award, academic category) and Eternity Martis (silver award, consumer category). 
COPA is produced by Masthead Magazine and is open to various competitors that produce content for the digital medium – from news organizations to journalism schools and student publications across Canada.
Climate change stories take the gold and silver
Akshay Kulkarni, a second-year student in the Master of Journalism program at UBC, took home the gold award in the academic category for Best Article or Series for his article about body disposals not being a burning issue in B.C.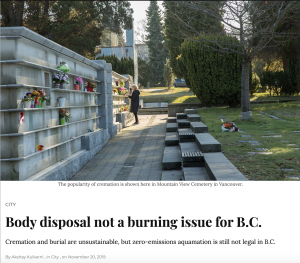 "This award makes me feel more grateful than elated or proud of myself – grateful to the awards committee for bestowing it on me, to my amazing sources who gave me their time, and of course, to the UBC Journalism staff and faculty for giving me the platform to do it all. A special shoutout, obviously, to Kathryn Gretsinger, Candice Lipski, and Frances Bula for greenlighting this off-the-wall piece and helping me see it through!" Kulkarni said. 
A non-traditional story at the first glance, Kulkarni felt it was important to highlight with his reporting the issue of how cremation and burial methods are unsustainable, but zero-emissions aquamation is still not legal in B.C.
"Climate change and unchecked emissions affect every part of life, and they will continue to do so unless new tech and new attitudes emerge. I'm happy this piece did that to so many people. Ask your local funeral director about aquamation today!" he said. 
The Adapt series, produced by the 2020 Reporting in Indigenous Communities class was nominated in the same category alongside Kulkarni and won the silver award. The Adapt series is a collaboration between ten students who produced stories on different ways First Nations in British Columbia are responding and adapting to climate change.
The Reporting in Indigenous Communities course was led by course-creator and award-winning CBC journalist Duncan McCue with instructor Chantelle Bellrichard and associate professor of teaching, Kathryn Gretsinger.
Bellrichard also won silver for Best Web Site in the academic category for her work as the web producer of The Thunderbird, along with students and the teaching team of the 2019W Integrated Journalism course. 
Second-year journalism graduate student Stéphane Lavoie won silver in the academic category for Best Photo Journalism.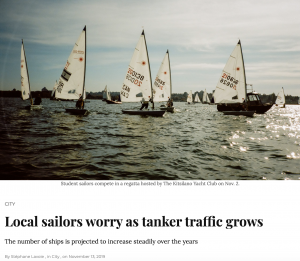 His story sheds light on local sailors worried about risky conditions on the water due to increased tanker traffic in Vancouver after the approval of the expanded Trans Mountain pipeline. 
UBC Journalist-in-Residence Eternity Martis, along with her team at the Xtra Magazine won silver for Best Investigative  Article or Series in the consumer category for their long-form story taking readers through the second wave of the HIV epidemic in the Philippines, where a generation of young people are trying to build a better future. 
Recognition at the COPAs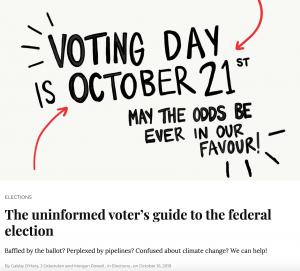 Journalism graduate students Gabby O'Hara, J Ockenden and Morgan Powell were nominated in the
Best Infographic/Interactive Story
in the academic category for their story on The Thunderbird presenting
an informed guide
to the 2019 federal election. 
Bellrichard was also nominated as a web designer for Best Web Site in the academic category along with the students and the teaching team of the Reporting in Indigenous Communities class for their Adapt series.
Congratulations to our alumni and our ever-growing journalism community who won awards with their respective reporting teams across multiple categories for their contribution towards journalism.  
Journalism schools and student publications across the country also took home awards and nominations at the COPAs — including The Signal at the University of King's College, the Ryerson University School of Journalism, MUSE Magazine at Queen's University, LINK Magazine att the BCIT Student Association, Humber College and The York University Magazine.