UBC Journalism alumni from the class of 2019 have won the top multimedia award in this year's student Emerge Media Awards and Best Digital Editorial Package in the Digital Publishing Awards for an in-depth investigation into the global fishmeal industry.
The project, The Fish You (Don't Know) You Eat, won first place for Multimedia Production. It was part of the Global Reporting Program (GRP) at the School, produced in collaboration with NBC News.
The fishmeal project is also up for the Student Award of Excellence in the Canadian Association of Journalists (CAJ) 2019 awards. Another project that involved UBC Journalism students, Tainted Water, won the CAJ Data Journalism Award.
The Emerge Media Awards, which are sponsored by the University of Guelph-Humber, recognize the best journalism, photography, graphic design and communications works done by post-secondary students across Canada.
It is the second year in a row that UBC Journalism students have won the Emerge multimedia award.
Students link stories from across the globe
Ten alumni worked on the project during their second year as students in the UBC Master of Journalism program, reporting from three continents with partner universities and faculties within UBC.
"This is the first time we've had such a diverse team in the class, with students in three continents, and subject-specialist students from fisheries and from medicine, working side-by-side with our journalism students," said professor and executive director of the Global Reporting Centre Peter Klein.
"The nature of this team led to a depth of reporting that has made this a really special project."
The fishmeal investigation saw groups of students reporting from China, Peru, and West Africa.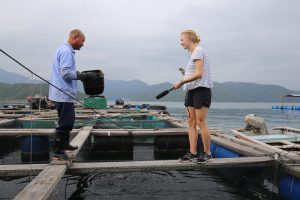 UBC Journalism student and now alumna Annie Rueter travelled to China, where her team reported on the nation's growing aquaculture industry — and its growing demand for fishmeal to support it.
She also worked on a solutions-oriented piece called Alternatives which features efforts to find more sustainable alternatives to feed farmed fish.
"It was important to report on the alternatives to fishmeal because there are some really interesting, large-scale initiatives that aim to make the industry more sustainable, and it would be irresponsible not to paint the full picture," she said.
"We also wanted the project to be solutions-based and help readers think about what they can do in their everyday lives to make informed decisions about their food."
But China — and the world — still heavily relies on fishmeal for aquaculture.
Jonathan Ventura's team travelled to the global community's biggest supplier: Peru.
"When we got there, we got to experience what one of the world's largest fisheries looks like," he said. "And it was pretty shocking. We documented some of the impacts and spoke to [people] in one of the leading industries in the world."
Ventura's team reported on how El Nino events due to climate change have challenged the nation's fishery industry for decades.
Team to Senegal and The Gambia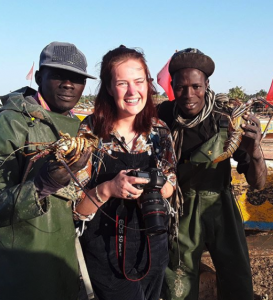 Across the Atlantic in West Africa is a region emerging as another major fishmeal supplier — albeit with growing contention.
Abi Hayward travelled with her team to Senegal and The Gambia to investigate how an influx of fishmeal factories was also spurring an influx of resistance. The communities there, she said, were not happy with the way the factories were endangering local livelihood.
She said her team had to think both quickly and critically to navigate ethical dilemmas in the field — something that grew her as a journalist.
"We had to make decisions there on the fly and hope we were making the right ones," she said. "And I loved it."
It was also on a beach in the town of Joal-Fadiouth, Senegal where Hayward saw fishmeal in person for the first time.
"That whole reporting experience for GRP was very formative for me. It cemented who I wanted to be as a journalist. It was an incredible experience of teamwork."
All teams produced written feature stories, infographics, and short video pieces in a year-long series that was published last October.
Last year, the class of 2018's GRP project, Stuck, took home first place for best Multimedia Production, as well.