For Sadiya Ansari, returning to UBC's School of Journalism, Writing and Media as an Asper Visiting Professor was like a homecoming.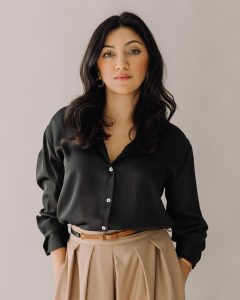 "[The school] has a really warm and welcoming environment," said Ansari. "I knew so many people here so it was a really nice environment to come back to."
After completing a graduate degree at Queen's University, Ansari explored working in policy for two years. But what she really wanted to do was report and write.
Since graduating from the Masters of Journalism program 10 years ago, Ansari has worked as a managing features editor at Global News, a staff editor at Chatelaine, a reporter for the Toronto Star, produced TV for CBC News, an opinion editor for HuffPost Canada, and arts coverage for the Canadian Press.
Ansari recommends that early-career journalists take on as many roles as they can.
"It's so important to be a researcher, be a producer, be an editor because you just get a different sort of perspective on [the] story and how to put together stories."
Diversity in Canadian newsrooms
From her extensive experience in Canadian media and newsrooms, Ansari co-founded the Canadian Journalists of Colour network.
"Initially, I just wanted to have in-person events where people can meet each other, because I knew a lot of people who were hiring, and again, wanted to diversify their hiring pool, wanted to diversify their newsroom."
As a BIPOC journalist, Ansari's vision of the Canadian Journalists of Colour network stemmed from her own journey in Canadian media. "I was feeling like Canadian media can be a real kind of [old] boys' club and it can be really really hard to break into," Ansari shared.
Along with co-founders Anita Li and Natasha Grzincic, Ansari explained how connecting BIPOC journalists with each other and hosting events in partnership with media outlets cultivated a space where these journalists could support each other and give each other opportunities while breaking down structural barriers.
Forthcoming memoir
During Ansari's time at UBC and after, her writing and reporting specialized in migration. The story of Ansari's own family history is what drove her passion for the social, political and economic aspects of migration writing. She is currently working on a memoir, In Exile, a deeply personal family memoir that seeks to uncover the fallout that led to her grandmother leaving her seven children in 1960s Pakistan for nearly two decades.
"I always had my grandmother's story in the back of my mind," said Ansari, "It was kind of one of these open secrets. When I talk to other people about it, everyone kind of has a family secret like this, right? And so I just thought it was really interesting that so many families keep secrets around things that they think are shameful."
Ansari began the interviews for her first memoir almost 7 years ago. Her love for writing essays and first person is what compelled her to dive into telling a different kind of migration story through her family's history.
"But looking at my grandmother's story and different family secrets, another big theme that kind of emerged, [that] I'm really interested in as a reporter, is culture and who gets to decide membership in a culture, who gets to decide what culture is, because it's completely evolving all the time."
Written by Karla Jubaily