One of the most cited scholars in journalism research, Dr. Thorsten Quandt, is spending the 2022-2023 academic year as a visiting scholar at the School of Journalism, Writing, and Media.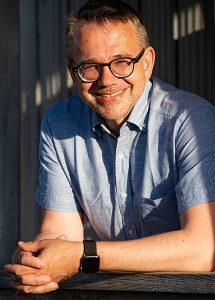 With more than 150 papers to his name on topics from disinformation, dark participation on social media and online gaming, Quandt calls his numerous citations "horrible academic bragging".
Quandt is on sabbatical from the University of Münster where is a professor of online communication in the Department of Communication.
During his time at the School, Quandt is giving guest lectures in journalism courses and working with faculty on new research collaborations.
"It's been a fantastic experience so far," he said of his time at UBC. "Amazing scholars, motivated students, and a wonderful campus."
Seminal book
Quandt's publications include the book, Participatory Journalism: Guarding Gates at Online Newspapers (Wiley 2011), co-authored with UBC Journalism professor Alfred Hermida and other leading academics. The book has become a seminal text on audience engagement with the news, with more than 1,000 citations on Google Scholar.
His more recent research focuses on disinformation, fake news and propaganda, and its intersections with populism and dark social media participation. Alongside Dr.-Ing Christian Grimme of the University of Münster and Prof. Dr. Christian Stöcker of HAW Hamburg, Quandt is currently conducting a research project titled Hybri-D: Real-Time Detection and Identification of Hybrid Disinformation Campaigns in Online Media.
The project will study how disinformation campaigns surrounding events like the 2016 U.S. election, the Brexit referendum, and the war in Ukraine operate, and how human actors are used alongside automated communication to spread disinformation.
The end goal of the project is to develop a software-based, machine-learning analysis tool that will help experts better assess disinformation campaigns by detecting temporal patterns in social networks in real-time. The project is set to be completed in 2024.
"I think my team and me try to push the boundaries of empirical research in journalism studies," said Quandt.
Award-winning record
The University of Münster professor has won several awards, including international Top Paper Awards, a dissertation award from the German Communication Association, and an ERC Grant from the European Excellency Programme.
He's also the Chair of Online Communication and Head of the Virtual Reality and Game Lab at the University of Münster, and the chairman of the Journalism Studies Division in the German Communication Association.
His research on gaming, something he refers to as a "pet project", led to him becoming the founder of the European Communication Research and Education Association's games studies division.
Quandt has previously been a visiting professor at the University of California, Santa Barbara, the Oxford Internet Institute and Stanford University. He has also been a visiting scholar at Indiana University, and guest lectured at institutions around the world.