A new podcast series on critical race by The Conversation Canada has launched as part of a research project on media innovation led by UBC Journalism faculty.
Second-year graduate student Ibrahim Daair worked as an assistant editor on this podcast, pitching ideas, researching guests, conducting pre-interviews, editing transcripts and cutting audio.
The podcast, Don't Call Me Resilient is hosted by Vinita Srivastava, director of innovation and senior editor of culture, society, critical race at The Conversation Canada.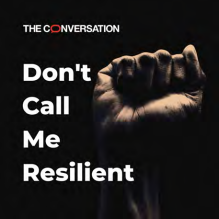 It is part of the SSHRC-funded Global Journalism Innovation Lab, led by professors Alfred Hermida and Mary Lynn Young. 
Srivastava shared that the idea for the podcast came when they started talking about innovation in journalism.
"Whenever we think about innovation, especially when it comes to the media, we think about technology. For me, innovation in journalism needed to be about changing the framework for how we do journalism," she said.
Srivastava wants to bring an anti-racist perspective to journalism. Don't Call Me Resilient aims to tackle racist stereotypes and consider possible solutions from researchers who have spent years studying these issues.
"In this podcast, we invite people to be allies, and to sit with us and to just try and join in on a conversation that you might not normally have," Srivastava said, calling it an insider conversation. 
The six episodes feature guests who are Indigenous land defenders, migrant labour activists, education experts, teachers from marginalized communities.
Student contribution
Srivastava acknowledged that training young and new journalists in this field of journalism and critical race was highly rewarding as it helped them gain new and different perspectives from the wide range of questions that came up during the production process.
The podcast gave Daair an opportunity to apply theoretical concepts that the journalism school taught him to his work. 
"Going through the editorial process really means applying all these ethical ideas we think about in class everyday – accuracy, transparency, objectivity," Daair said. 
His academic background helped him in his current role with research and production. 
"I did my previous master's degree in conflict analysis & resolution which meant having to do a lot of my own research," Daair said. "It's definitely come in handy when having to read academic sources from all kinds of academic disciplines." 
The first episode of Don't Call Me Resilient launched on Feb. 3 and can be found on Apple Podcasts, Spotify and other podcast services. 
Profs Hermida and Young co-founded The Conversation Canada as an independent non-profit journalism organization in 2017. It features articles written by academics and edited by journalists.