Nono Shen graduated with a Master of Journalism degree in 2017. Shen joined the School of Journalism as an international student from China and interned at Global News and Sing Tao Daily during the summer.  She is currently a bilingual reporter at Richmond News. Here's what she had to say about her time at her alma mater.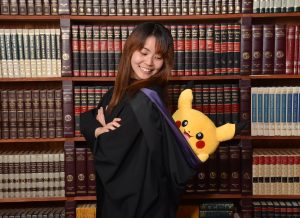 What inspired you to get into journalism?
It goes way back. I did my undergrad in China and majored in English. I was in one of my English literature classes and my professor spoke about John Donne's poem "No Man's an Island". At the time, I felt deeply touched by it and felt inspired to help people. I think I just found my calling in the media. It is a very special place and it lends everyone a voice, regardless of whether people are wealthy, poor, strong or weak. I feel that they can always find a way to tell a story through the media. I remember then that I stayed up all night working on my application for the UBC journalism school.
Have you always known that you wanted to be a journalist?
No, it wasn't until my undergrad. It was during the time my dad was recovering from lung cancer and I was working through a difficult situation. I felt the urge and need to give voice to the voiceless, especially vulnerable members from different communities. I wanted to give them a place to express their opinions, share their suffering, show their happiness, and hopefully, connect. 
I asked my teacher about the career path I could choose where I use words to help people. I feel that words are powerful and storytelling is powerful. So I thought journalism would be a good field for this. I only realized this when I was around 18 or 19 years old, doing my undergrad. Before that, I was very lost and didn't know what I was going to do when I grew up. 
Why did you decide to come to UBC to study Journalism?
Before I enrolled at UBC School of Journalism, I spent a summer studying English at UBC. This was an exchange program as a part of the English-as-second language institute to help international students learn English.
I remember taking a tour of the campus, visiting the city, seeing the mountains and I saw the school surrounded by the ocean – it was just so beautiful and the scenery was breathtaking. The staff, faculty and students are super friendly. 
That summer, I remember taking a walk to Wreck beach and I remember passing the Journalism school. I think that summer was the best summer of my life. When I returned to China, the J-school was stuck on my mind and I knew I wanted to return. 
Can you share with us your experience at UBC? How were those two years for you?
I felt like the two years were life-changing for me. I wasn't typically a quiet student back in China, but when I arrived here, I was a bit intimidated when the professors asked us to go out and approach people for interviews. I feel like the professors coached me and helped me gain my confidence. It was very heartwarming. I am very comfortable doing interviews now, and I recall these concepts and memories now and then. 
Not only did I learn practical skills, but I also gained softer skills that have made me a better person.
Since I came here as an international student, I thought I would feel very lonely, but honestly, all the students here have become my lifelong friends. We go to new places together and help each other. I feel like these were the best years of my life. 
What was something that stood out to you the most in the two years that you were in school?
One of the most unforgettable courses was feature writing by David Beers. In this course, we were required to write a long feature story based on a single event or a person. When I took that course, I didn't think I would pass it. But David Beers was very supportive. He always offered ideas, and I remember having trouble finding sources at the time, and he always encouraged me to push the limits. In the end, I managed to get all the information I needed for my story and secured some interviews. It's just all the encouragement and guidance along the way. In the end, I managed to complete the course, with a good grade too. 
Another course that stood out for me was Dan McKinney's video editing course (This course is not currently offered. The course equivalent of this is JRNL 520V Visual Journalism). In this course, we were paired with partners for our projects and created a short film or documentary based on someone. I felt this was a good opportunity to set us up for a real newsroom because it was very hands-on and collaborative where we worked with a range of people. So yes, feature writing and video editing were the most unforgettable and valuable courses for me. 
Can you share your internship experience? Where did you intern over the summer and how was that experience for you? 
I started my internship at Global News. They had a Mandarin program and I was there for 6 weeks doing voice-overs, translating news from English to Mandarin. After finishing six weeks, I moved on to Sing Tao Daily, which is one of the largest Chinese media organizations based in Vancouver. This was more of a Daily News internship program. I was assigned a different story every day. I appreciated the internships, because before it, I had no idea of how the real news worked. Although we did a lot of work at school, it wasn't the same as gaining real-life experience. I felt like the internships also helped us so much after we graduated. It was easier to land a job in the industry because we had already built connections.
What is the biggest takeaway from J-school that you will carry with you to your work? 
I believe doing journalism is a privilege here as people trust journalists. I always tell myself to remain as humble as possible to maintain that trust. A lesson I learned from J school is that we should put our efforts into all the stories that we produce and that the stories, the interviews we do and the stories we write should be ethical, objective and unbiased. I feel like that is the foundation of everything. In J school I had the chance to meet so many wonderful storytellers like my classmates. They were always eager to learn and they encouraged me to be eager to learn as much as possible. These are all the lessons I carry with me and will continue to carry into the future.
Is there any final advice that you would like to give our current graduate students?
I think I can speak from an international student perspective, because when I first decided to major in journalism. Friends, family and especially relatives did not support me in the beginning and told me that I should choose a career as a lawyer, engineer, or doctor. Maybe it's part of the stereotypical Asian culture where you must always choose a career with a stable income. When I first told them I wanted to join J-school, I was told that the media industry was very white-centric and that I wouldn't have a voice in it. I honestly feel like this narrative is changing gradually. I feel like UBC has a very futuristic vision in welcoming international students in helping them put their voices out there. I think this is a reason why people from other countries are hesitant in pursuing this as a career path. I believe that if you enjoy it, just do it. Go with your passion because we have all the resources and support out there.