Alum Dannielle Piper,  a 2019 graduate of the Master of Journalism program, is one of the three recipients of the Canadian Journalism Foundation's new Black Journalism Fellowship Program, established in partnership with CBC/Radio-Canada and CTV News.
The six-month fellowship program aims to amplify Black voices and improve coverage of Black issues in the news and cultivate future Black media leaders. Piper will be hosted for six months at a CBC/Radio-Canada (English and French) newsroom or remotely this year due to COVID-19 pandemic.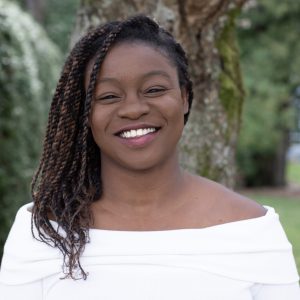 "It's an honour to have been chosen for such a prestigious fellowship. I'm grateful for the opportunity to amplify black voices in Canada and look forward to the mentorship I'll be receiving during my time at CBC," said Piper. 
During her fellowship, Piper aims to examine Vancouver's history with the Ku Klux Klan from the perspective of the Black community and to create a data project profiling the ethnic, religious and lingual diversity of BC's Black diaspora.
"I am exhausted by the media's monolithic representation of my people," she said. 
"Too often are our stories reduced to our individual and collective trauma rather than the expansiveness of our history, the vibrancy of our culture and the resilience of my people."
Piper will receive mentoring and training for a variety of skills, including video and audio editing, writing, research and investigative reporting.  
Each recipient will receive a full-time stipend for the six months and write or produce an article/piece during their fellowship opportunity that will be considered for publication/broadcast by CBC/Radio-Canada and CTV News.