Elizabeth Melimopoulos graduated with a Master of Journalism degree from UBC in 2022, but started working in the journalism industry ten years before that. Her diverse portfolio includes Al Jazeera, an International Women's Media Federation trip, and several reporting assignments around the world.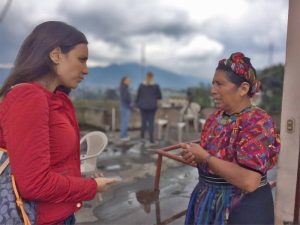 Elizabeth studied remotely from Qatar during her time at JWAM, and continued to work at Al Jazeera throughout her studies.
"When you work, you learn journalism by doing it. You don't think about concepts, you just go, go, go," she said. "Something amazing the school gave me was a place to stop and actually think about objectivity, how to handle stressful questions, how to connect."
Elizabeth received her Master's degree in May. She graduated with a Certificate in International Affairs at the same time, all the while living across the world from Vancouver and working full-time at Al Jazeera in Doha, the capital of Qatar.
She often found overlaps between classroom discussions and her work at Al Jazeera. During the pandemic, she was assigned to write about COVID-19, while learning about the implications of reporting on COVID in class.
News for children project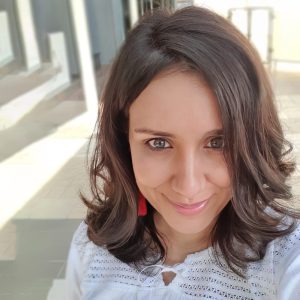 Her favourite courses during this time with the program were Imagine Journalism and the Final Research Project (FRP).
"With the FRP, I got to think about journalism very deeply, in a way I never considered," she said.
"I loved Imagine Journalism because I got to think about my own projects."
Elizabeth gushes about her Final Research Project, which focused on how to provide news for children and get them involved in writing news themselves. This meant looking into what children want to see in the news, and how she could incorporate that into her work.
For her finished project, Elizabeth created a working prototype of what a news site for children would look like. "The aim of the page was to create a community and space where they can find information, connect with each other, write their own pieces and expand their media knowledge."
Elizabeth looks back fondly at her time at the School of Journalism, Writing and Media, especially with her cohort.
"Still today, I have friends—even if it was online and I don't know them in real life, we still connect and we're still good friends. Especially during our Thunderbird assignments, we still remember those moments."
Working in the field
Elizabeth was born in Mexico, though her family also has ties to Venezuela and Greece. Before coming to UBC, she  received a Bachelor of International Affairs from Technologico de Monterrey in Mexico City,
She has been full staff at Al Jazeera's Doha office in 2015, and has worked across different areas many different beats during this time—including social media, the COVID-19 pandemic,  and the conflict in Ukraine.
Some of her best experiences in journalism have been out in the field on deployment, first to Guatemala and El Salvador with the International Women's Media Foundation and then to Venezuela with Al Jazeera.
"There's something about being in the field, actually getting to talk to people," she said, noting that these experiences taught her to examine and manage the biases she would subconsciously pick up from talking to different groups.