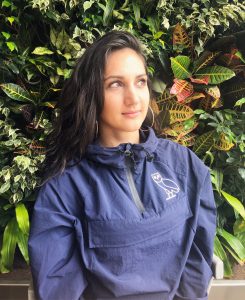 Anya Zoledziowski is a Toronto-based staff reporter at VICE Canada. Prior to landing a full-time position at her dream publication, she worked at CBC Edmonton and StarMetro Calgary, and co-produced an investigative series examining hate crimes in the U.S. for News21.
Zoledziowski graduated from UBC Journalism in 2018, during which she completed an academic thesis looking into the experiences of BIPOC (Black, Indigenous, and People of Colour) female journalists in Canadian newsrooms. Her work carries a social justice undercurrent that focuses on Indigenous affairs, race and gender.
Here's what she had to say.
What led you to journalism?
I definitely care about the public service aspect of journalism, but I was still going in pretty open to figuring things out. I knew I wanted to write. I knew I wanted to report on issues that I care about, and on issues that the people that I care about, care about. I also knew, like with any institution, fighting for a more diverse environment is something I wanted to do. An industry like journalism that is such a knowledge mobilizer — it's really important to create diversity there. So I felt like I could add some value there.
And so I started, and as I kept doing my master's, it kept dawning on me that this was something I really want to do. It's the way you connect with people, the way you challenge so many systems — and the way we're taught journalism at UBC — it forces you to question your ethics and think deeply about why you're doing the work you're doing, and how you're doing it.
Why did you choose to write a traditional, academic thesis in your second year?
A goal of mine is to do my PhD, and basically the rule of thumb is if you're going to do a PhD within five years of graduating from your master's, you should do an academic thesis. There is such a relationship between academia and journalism; you need both institutions not only to mobilize and create information, but also to decide how to disseminate it.
I really care about journalism and media ethics, and through the integrated journalism course led primarily by Kathryn Gretsinger, and Candis Callison's and Kirk LaPointe's ethics course, as well my interactions with Mary Lynn Young, I was able to think about not just what journalistic ethics we should be employing, but where they come from. I think institutions need to keep that in mind. The more I got to know different journalists who are both racialized and women, the more I realized that ethics are formed by our identities — and our identities aren't treated equally in newsrooms. I started digging deep into previous academic literature that explores journalism institutions and how white they are. I found Minelle Mahtani's wonderful work that questions the same problems. Some of it was a decade old and I suspected a lot of her findings hadn't changed, just going off of anecdotes.
I wanted to be a part of that. So I went to Dr. Callison and Dr. Young, and they ended up being my supervisors. I call Dr. Mahtani an informal supervisor because I carried a lot of influence from her, and through those conversations, I fine-tuned the topic and interviewed BIPOC female journalists about their experiences. I spent my second year [in the program] getting an ethics review, interviewing sources, writing the thesis and eventually publishing it. I was really lucky because I also got to publish a think piece off of it a year later for The Tyee.
What did you find?
Journalism in Canada is overwhelmingly white. And that doesn't just impact the kind of coverage we're seeing; it also impacts how people live and experience newsrooms, which is often very unacceptable. However, you can see how BIPOC journalists create networks of support. That's quite empowering. And I think where my findings differed slightly from Dr. Mahtani's was that now, because there has been a generation before mine, I get mentors that maybe my mentors didn't have. It's very hopeful, but that doesn't mean we shouldn't keep challenging these institutions. Journalism benefits from more diversity. That diversity needs to be honoured and protected and completely respected by employers.
After graduating, you moved to Phoenix, Arizona for about four months for a fellowship with News21. Tell us a bit about that.
I had interned at The Discourse the summer prior and I was talking to them a lot about my interest in hate crimes. So when I saw the News21 theme was hate crimes, I knew it was up my alley. I also wanted to do investigative journalism.
Within the first month, we were all pitching beats and story ideas, and it was me and this other reporter, Garet [Bleir], I worked with the closest and we both really fought for an Indigenous beat. We ended up growing this extremely robust story that was all through the Midwest. It was twofold: there were a lot of missing and murdered Indigenous women and girl cases — those are hate crimes, and I think that needed to be addressed — and secondly, a lot of those hate crimes happen in and around resource extraction sites. We see that in Canada, as well. So recognizing all of these contexts in which violence happens within the ongoing context of colonialism — it was a heavy lift, but it was important to me.
How did you land your current job with VICE Canada?
I applied in November [2019]. It was the hardest application process of my life. I was sitting at work and I got an email from my boss Josh Visser asking if they could give me a call. Natasha Grzincic [the deputy editor], my direct report, and Josh called me and asked, "So how do you feel about working at VICE Canada?" It ended up being one of the best days of my life. I went into J-school wanting to write for VICE. Getting this job — it was a lot.
The whole team pushes me to be so much better than I thought I could be. There's so much room to talk about what stories are important and why. They're pushing the boundaries of what journalism ethics should be in terms of inclusion and diversity, calling out power in a really innovative way.
Finally, any tips for reporting on and amidst a global health crisis?
Trust that you know how to do journalism. Use the same skills you've been kindling since you started. Every other journalist is figuring it out with you. Take care of yourself. One of my bosses said there's a lot of adrenaline right now and it's tempting to ride it and report as much as possible, but that adrenaline isn't sustainable and we don't want you to burn out.
And for me, it's about always having my ears open and calling sources and asking: what about this is affecting you? There are so many experiences I will never live, and I don't want to do journalism just based on what I know right away. So I think calling and asking and listening. A lot of these stories aren't my stories. The ideas come from other people trusting me with their stories, and for that I'm really grateful.