An idea that started as a class project has become a reality for UBC Journalism student Karla Jubaily.
She is behind Cooking Up Culture, a new podcast celebrating the intersection of culture, identity and food.
In the podcast, the second year graduate student delves into how food forges connections between people from different cultures and backgrounds, and preserves traditions for future generations.
In the first year of her Masters of Journalism, Jubaily developed the project in the Imagine Journalism course, which teaches students about media innovation and entrepreneurship. In her second year, she has taken her idea from paper to podcast, working on it as a Directed Studies course with Professor Alfred Hermida.
Her first episode features a conversation with Parsa Alirezaei, a member of the Iranian diaspora and an independent scholar of Middle East studies, and an incoming intern with the International Criminal Court (ICC).
In the inaugural episode of Cooking Up Culture, they talk about how something as simple as tea can bridge political differences amongst the Iranian diaspora, while building community and solidarity with union workers.
The power of food
Driven by her Filipina-Lebanese roots, Jubaily wanted to create a podcast that transcends cultural boundaries and fosters connection. In common with many second-generation Canadians, she was born and raised in Vancouver with little to no connection to her homelands.
"I wanted to create something that felt like when you listen to it, it's nurturing to you. Almost as if I am creating this for a version of my younger self, who didn't have that connection to my homelands when I was younger," she said.
"I didn't have a forum to investigate my culture or reconcile with my culture."
In her podcast, Jubaily explores the evocative power of cuisine, how it binds individuals to their roots and its role in fostering a sense of community and belonging.
Bridging cultures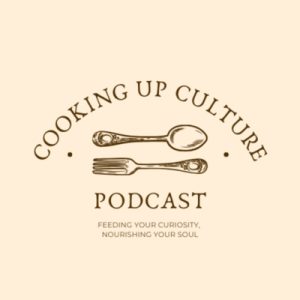 Jubaily's podcast invites people from the Vancouver community who have strong memories associated with food.
These conversations revolve around the pivotal role that food plays in bonding, bridging cultures and forging connections. Her guests come from diverse backgrounds, but they all share the common thread of the powerful influence of food in their lives.
One of her forthcoming guests, a Pakistani-Canadian dietetic student at UBC, Abeera Irfan, shares how her family used food as a means of socializing and bonding. Their dining table was not just a place to eat but also a platform for forging relationships and connections in a new land.
Jubaily believes that food is a bridge that can bring people together, transcending borders and cultural barriers.
"This podcast, I think is a low barrier and a good entry-level platform to teach people about what's going on in the world and the different cultures. So it's not just for diaspora, but for people who want to understand other people."
The podcast, Cooking Up Culture, launched on November 7 and is available on all major podcasting platforms.