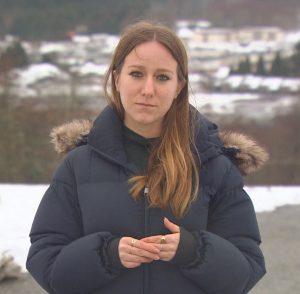 Michelle Ghoussoub graduated from UBC Journalism in 2016, after which she started working across several bureaus of the CBC as part of the public broadcaster's Joan Donaldson Scholarship program.
She started her work in journalism at an English-language newspaper in Beirut, covered social unrest and HIV rates at migrant camps in Chile, and wrote a final research project (a major project in journalism and journalism studies which involves an in-depth investigative exploration of a topic, issue or problem considered newsworthy and timely) on Egyptian-Canadian journalist Mohamed Fahmy's journey from being incarcerated in Egypt to being pardoned and moving to Vancouver.
She now works for CBC News in Vancouver.
Here's what she had to say.
What are some of your highlights from the School?
I was part of IRP [International Reporting Program] the year UBC partnered with VICE News. We went to Chile and it was a really unique collaboration because we went down to do a documentary, but also had access to a virtual reality (VR) camera. We had one story in mind that we were going to tell with a traditional doc and then in VR, but once we got there, we actually found a second story and pitched that to VICE as well. The idea we had was basically, you put on [VR] goggles and you feel like you're in the Atacama desert or in downtown Santiago, hearing about people's experiences in this really intimate way.
And what were their experiences? What stories did you tell?
The story we went down there to report originally was about the rise of HIV. Chile is a country that has really great health care and is seen as the economic success story of South America. And yet we found that HIV rates were actually going up and those two pieces of information didn't really make sense. So we set out to figure out why that was. And then the second story that we ended up doing once we got there—we were in these migrant camps trying to talk to people about living with HIV. And we realized there were all these people in Northern Chile, just living in these camps that you could tell they had built overnight. We were literally climbing through garbage to get to people's houses that had no roofs and no running water in 35 degree heat. So we ended up doing a second story on migration, essentially about all of these people from other South American countries who hear about life being better in Chile, and then try to migrate over.
People cross over the borders in the North and think that they're going to get to Santiago and find jobs, but end up getting stuck and living in these really awful conditions. And there was a whole second component of the story, which was about intolerance within Chilean society of people not wanting foreigners to come in.
And also during your second year in the program, you wrote a final research project?
My second year was when former Al Jazeera bureau chief Mohamed Fahmy was a visiting professor at UBC after spending months in Egyptian jail. I had connected with him when he was still in Egypt but out on bail. I had actually proposed a completely different topic, but when Fahmy was pardoned and came to UBC, that became my thesis (final research project). I wrote two longform print features. One was about the geopolitics of how he ended up in jail in Egypt after the revolution and was caught in this diplomatic firestorm between the Egyptian state, Al Jazeera in the gulf and Canada.
And then I wrote a piece about Fahmy the person, how he became a journalist, how he ended up in jail and survived that very traumatizing experience. The arc of it was how even when he was able to get out of jail and move to Vancouver, there was a second struggle of having to adapt to freedom after going from one extreme to another. And how after everything that he survived, he was really questioning what his role as a journalist was going to be going forward.
What lessons from the School do you carry with you the most?
I would really say the field skills. Being the producer for our team in Chile really, really prepared me when I thrown into the field with CBC. Because the logistics of managing a five person team in a foreign country on this huge documentary project was so crazy that it made having to turn around a TV pack in Canada in an eight-hour shift seem very doable. They told me that I was the producer for our team in Chile and I didn't know what that meant. I feel like that's a job that everyone throws the term around, but then you can't actually describe what that person does. I learned in the field that a producer is the solver of all logistical problems that also makes sure the team is holding it together emotionally when no one has slept in three days.
I think, too, that critical thinking, asking yourself if there's something missing in the story or if there are assumptions you're making. At UBC Journalism, you spend a lot of time thinking about those kinds of broader ideas. Sometimes when you're reporting on deadline you're so caught up in the minutiae of things and you have to take a wider look at, what is the benefit of the journalism that we're doing and who is the audience that we're serving?
What advice would you leave young journalists?
I think that sometimes when people leave journalism schools, they're so full of ideas and their writing is so full of their own voice. And then you enter a newsroom and it's very intimidating and you feel like you need to fit in this box and make your stories sound the way that other people's writing sounds. But don't let your own voice be stamped out. Editors want fresh perspectives. And we're in this very unique moment where there is a certain openness to hearing voices that we haven't been hearing in Canadian journalism. If you're here, it's because they want to hear that from you—really keep hold of that. Some of the most successful writing I've done, I took a risk and it wasn't necessarily CBC style. And people said, "I really liked that thing that you did. It sounded different. And I noticed it."