Megan Devlin graduated from the Master of Journalism program in 2017. Devlin shares how J-school helped her reflect on her reporting skills, work on long-form multimedia projects collaboratively and gain an insight into the journalism industry through her internship experiences. She is currently a reporter covering daily news at DailyHive Vancouver.
Here's what she had to say.
How did you get into journalism?
During my undergrad at Western University, Ontario, I worked for the student paper called the Western Gazette for four years. In my second year, I was writing this new story and waiting for a source to call me back. But I had to go to class and I remember not wanting to go to class. Like, I just wanted to write this story and do this all day. And then I was like, 'Oh, wait, I can do this all day and go into this other career'. That was kind of when I had my lightbulb moment. 
As I got more involved with the paper, I learnt more. I became an editor, lived in the little student paper office and was in the news section. So I got into daily news pretty quickly, I suppose. Looking back, it was done at a slower pace, where we'd write one story per day and file for a 5 p.m. deadline, but really close to an actual newsroom. We also had some good training from editors who had already been there for years. It was kind of like passing down the knowledge that way and honestly, a great experience for me. I feel like it prepared me really well for J-school because I already knew the basics, like, how to do an interview, how to write a story, the press style and such.
What did you pursue your bachelor's in?
I studied communications and biology at Western. So with that science background, I still really love reporting on science and health stories. But during undergrad, the paper was my top priority, not not my classes.
What prompted you to choose UBC for your grad studies?
To be honest, a girl from the student paper a couple years older than me had gone to UBC and just had the best things to say about it. So I was intrigued from then on. Also, I'm from Toronto and I was choosing between either UBC or Ryerson. Since I grew up in Toronto, I decided to try something new and move across the country to UBC and the whole idea, like mountains, outdoors, the beautiful nature, sounded really exciting. I thought I'll do a couple years here and then five years later, I'm still living here.
Do you remember any specific course or any specific story that you covered during your time at UBC?
Yes! In our final year, I was part of the Global Reporting Program and Reporting in Indigenous Communities (RIIC), both of which are supervised long-form multimedia projects that you're reporting for an actual outlet. So I found it really cool, one for the training aspect of it. But coming from the daily news background myself and, I'm working in daily news again, taking a whole year to work on that project and work on it with a partner from the school, as well as with a couple students internationally, just amazes me. Looking back now, the amount of time I was able to put into that project and how it turned out, like the scope of it, just turned out so well. I'm astounded that I had that much time and energy and that we made that happen for all the long nights. So yeah, I feel like that was definitely a highlight, kind of realizing my own abilities in that way. Realizing that I can do more than just file a story for 5 p.m., that I can take it a step further, collaborate with other journalists and make this larger multimedia project happen that like surfaces, some important themes, and I think UBC was really special for that.
What are your biggest takeaways from J-school?
One of my biggest takeaways is understanding how important the work we do is and the impact that it can have. Especially with daily news, it's so easy just to get caught up writing one story, then the next one because there's always something happening. So to remember that this is how people get their news, this is how people form their ideas about the world and this is playing a larger role in society that we don't always think about in our day to day work — it's important to keep in mind. And yeah, just the importance of doing it right and doing it ethically, because the consequences of not following that can be pretty severe. 
Can you tell us something about your internship experiences?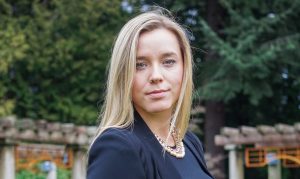 Yeah, sure! I interned at The Tyee, CBC Vancouver, CBC London, Global News and the Globe and The Mail. A cool aspect of doing these internships is that you're working in a new, high caliber newsroom where it's really hard to get a job as a new grad. So as an intern, you're seeing all these high level journalists working and you're getting that experience, because you're probably not going to be able to get that experience again, for a few years, till you have some experience under your belt. So it's kind of cool to fast forward a little bit and take a peek behind the curtain of how it all works. Coming out of school, you're more likely to get a local news job or something where you might have to start from the bottom. But these internships put you in these newsrooms that you might not see till a few years into your career, but you get to see how they work and figure out what you like and don't like.
How would you describe your two years of grad school experience?
Journalistically, I would say it was like a deep breath. At UBC, I got the chance to really sit back and take some time and think about the stories I was doing, thinking about the impact they could have and about how to make my journalism better. I felt like I had the support to do that through the faculty, which you don't get in the working world. I really appreciated that and I do feel like those two years have had an impact.
So you're currently working for the DailyHive, what does that job look like?
I'm on the Vancouver team, so for the most part, I cover local news. But we're also a national outlet and have a presence in Calgary, Edmonton, Toronto and Montreal. So I sign in at noon and work on local stories, anything from the morning that still needs attention and then move on to COVID pressers. By 5 p.m., everyone goes home one by one but since I'm like the last one on for the evening, I scan each of our news stations for each city and cover basically whatever's happening that evening. It's a bit of both local and national reporting. And then, I keep an eye out on social media to analyze what posts are performing well, pay attention to stories doing well for other outlets and check if we need to cover that as well. So that's kind of my day at the job.
Is there anything that you'd like to share with our current students at J-School?
I would say like, keep at it. I know people say this all the time, but journalism can be discouraging, and it's normal for it to be hard. Don't think that it's you. Encountering a challenge early in your career, not getting the job you wanted or things that might set you back, that's not a reflection on you. That's not a reflection to say that you're a bad journalist. It's like that for everybody. Everybody in the industry has experienced it and it sucks that you have to keep trying. Keep trying and eventually, that door's going to open for you. 
Another piece of advice I'd like to give, which a lot of people may say to you is, say yes to everything or move to a small town, or basically, sacrifice everything for that job. I think it's okay to draw some lines for yourself, to draw some barriers and say that I want to live in the city where my family and my friends live, and I'm not willing to move to a small town, or I'm not willing to work overnight. It's okay to have those boundaries. You don't have to say yes to opportunities that make you uncomfortable or would have an undue impact on your mental health, like it's still possible to find success, while balancing your family, your friends and your own life. Be keen but don't do it at the expense of your own mental health.