Four faculty at the School of Journalism, Writing, and Media (JWAM) have been recognized for their outstanding contributions.
Dr. Louis M. Maraj was honoured with two awards from the Critical and Cultural Studies Division of the National Communication Association (NCA). He won the Outstanding Book Award for Black or Right: Anti/Racist Campus Rhetorics, as well as the Scholar-Activist Award.
Colleagues Dr. Alexis McGee and Dr. Stephen Dadugblor were awarded a UBC Hampton New Faculty Grant each and both were accepted into the Leading Scholars Program at UBC's Green College.
And Kimberly Skye Richards was among the winners of Catalyst Collaboration Fund from UBC's Peter Wall Institute, which provides up to $10k support for collaborative research projects and/or events, knowledge translation and mobilization related to the climate emergency.
The four faculty members teach in the Writing, Research and Discourse Stream (WRDS) at the school.  McGee, Dadugblor, and Maraj joined JWAM in September 2021 as assistant professors, and Richards is a lecturer.
International recognition for Maraj
The award-winning book by Maraj discusses how Black students and faculty formulate their positionalities and identities through rhetorical reclamation. The volume dissects how students and faculty of colour operate within and against racist rhetorics.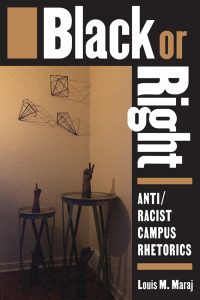 The Scholar-Activist Award recognizes Maraj's role in promoting social change. His extensive philanthropic activities are as a co-founder of the learning community, Digital Black Lit & Composition, a member of the Justice Scholars Institute at the University of Pittsburgh School of Education, and as a mentor for high school youths of colour and student athletes of colour.
"It is a lot of work, and it can be overwhelming," said Maraj, adding that when "youths and the under-resourced feel comfortable enough to share their experiences with me … [it] motivates me to continue doing what I do."
Through future works, he hopes to continue to expand his scope past academic institutions as sites of knowledge all the while keeping close to his focus on race and racism – sparked by the Black Lives Matter movements – and rhetorics.
Scholarly community
The Hampton New Faculty Grants for McGee and Dadugblor provide recipients with $10,000 over the course of two years, while the Green College program provides a space for scholars to engage in interdisciplinary conversations to further their academic work.
Having received her Ph.D. in English from The University of Texas at San Antonio in 2018, McGee has focused on the iteration of race, gender, and culture in literary and sonic rhetorics. "Growing up, my mother used to say, 'You have to play and instrument and you have to play a sport' … [and] coming from a long line of musicians, song and music has always been … how I find myself and centre myself," she said.
She is looking forward to putting the final touches on her first book, From Blues to Beyonce: A Century of Black Women's Generational Sonic Rhetoric. She will then start on her second book, which investigates how songs in transnational diaspora contribute to the making and unmaking of cultural and national identities.
Dadugblor received his Ph.D. in English from The University of Texas at Austin in 2021. His research looks at how "cultural imaginaries inflect citizens' participation in postcolonial African democracies," he said.
He is looking forward to progressing his current and second most major project with the Hampton New Faculty Grant, which builds on his Ph.D. dissertation.
"Following decades of military regime, as Ghana pursues a democratic way of government, there has been a push to cultivate a sense of peace", Dadugblor explained.
He is excited by the funding that will help him access the Ghanian media archives to extract a critical and in-depth understanding of the role of composition and rhetoric in the democratization of a previously autocratic government.
Climate action through art
The Peter Wall award for WRDS lecturer Kimberley Richards will support a project that promotes how artists can help to fight climate change.
An interdisciplinary artist, Richards is working to create an open-access archive of performance-based strategies to promote and mobilize support for a just transition away from petro-modernity.
The project aims to prioritize the experiences of those most impacted by the violence of the existing system.