Students, alumni, faculty and staff at the School of Journalism, Writing, and Media have contributed to an eight-part documentary series exploring alcohol use, addiction, resilience and healing in Yellowknife.
The series, Turning Points, was produced in partnership with PBS Newshour. It looks at the cultural, social, geographic and historical factors that both drew the storytellers into addiction and allowed them to map out routes for recovery.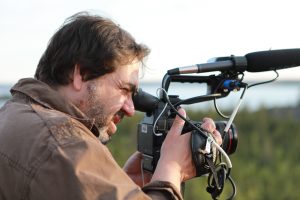 It was produced by the Global Reporting Centre, housed at the School, in collaboration with local Indigenous storytellers and aired by PBS NewsHour. 
The project was made possible with funding from the Peter Wall Institute for Advanced Studies and the Social Sciences and Humanities Research Council of Canada.
The series focused on bringing forward stories about alcohol use among Indigenous people through empowerment journalism.
The approach was developed in the process of making this documentary series. It has been termed as "opportunities for journalists to transition from gatekeeper to collaborator and empower story 'subjects' to produce and own their content."
Participants who shared their stories were involved directly in every stage of the production process and led the narrative for representation in the media. 
"When people are listening, it allows you to unpack traumas that you might have been carrying for years, and eventually you can begin to heal," said William Greenland, one of the featured storytellers. 
A different approach to reporting 
Britney Dennison, who now works at the Global Reporting Centre, is the producer of Turning Points along with UBC Journalism, Writing, and Media professor Peter Klein, executive director and founder of the Centre.
"UBC Journalism is a world leader in collaborative approaches to reporting in Indigenous communities," said Klein, executive producer of the project. 
"We were fortunate to have faculty, students and alumni come to this project with a collective understanding that this topic and this project required a different approach than regular reporting," he said. 
UBC doctoral student Maya Lefkowich worked as the research producer for Turning Points. She designed the methodology for empowerment journalism and piloted a study in Yellowknife to put the concept into practice.
"I am hoping to better understand opportunities, barriers, and strategies for aligning research and journalism practices with decolonizing and anti-oppressive principles," said Lefkowich, who is pursuing her Ph.D in Interdisciplinary Studies.
The four-year project saw contributions from students who are now alumni of the School. Continuing student Logan Turner worked on this project as an associate producer, whereas alumni Jonathan Ventura and Olivia Fellows both assisted in the videography as well as the editing process. 
J-School staff Andrew Munroe took charge of the digital design and development of the series. Alumni Jimmy Thomson and Dennison contributed as field producers. 
Klein, who is an Emmy-award winning journalist added that project members spent months developing trust with the community in Yellowknife, and they led them guide this project in the direction they wanted to take it. 
"The end result is a series of documentary shorts unlike any that outsiders could have produced," he said.