How people engage with news on digital platforms and applications from Facebook to WhatsApp is the focus of a new research project by UBC School of Journalism, Writing, and Media assistant professor Ori Tenenboim.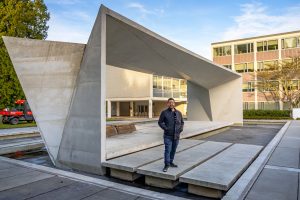 This multi-year project, "Publicly, Privately, or In-Between: How People Engage with News in Different Digital Spaces", is funded by the Social Sciences and Humanities Research Council (SSHRC).
Tenenboim's aim is to further study people's perceptions and practices around engaging with news in various digital spaces, including public-facing spaces like news organizations' Facebook pages and non-public-facing spaces like WhatsApp groups.
​​"Deep engagement with news, for example in the form of a continuous conversation, seems generally limited in public-facing spaces. There are also concerns about the role of these spaces in democratic life, including phenomena of hate speech and large-scale disinformation," said Tenenboim. "It is important to better understand engagement with news in other spaces as well, including meso news-spaces that are between the private and public realms."
This research project builds on Tenenboim's previous work in digital journalism, political communication, and media economics. He has often taken a multi-national and comparative approach, looking at the United States, Canada, and Israel. His work has been published in many journals and edited books, including New Media & Society, Journalism, and The International Journal of Communication.
"Sharing, commenting, and liking or reacting differ in the degree of expression they allow us"
Among his most recent publications is "Media Production Logics in Triple-Party News Spaces: A Five-Dimensional Framework," published in the top tier journal, Digital Journalism, online first in August 2022. This study examined how news organizations engage with what he calls "triple-party news-spaces". These are digital spaces that involve a news publisher, a platform owner, and users.
Through interviews with professionals at 14 news organizations in the United States and Israel (including the New York Times, Vox, USA Today and Walla), the paper explores how these organizations decide what, who, and when to post.
Conference presentations
Earlier this year, Tenenboim presented his research at the 72nd annual International Communication Association (ICA) conference in May in Paris, alongside several other UBC journalism faculty members. The conference is one of the largest and most high-profile conferences in the communications sphere, and helps facilitate journalistic research and discussion worldwide.
At the ICA conference, Tenenboim presented his work on triple-party news spaces, as well as a study comparing engagement on Facebook with posts by US and Israeli news organizations. The paper, "Comments, Shares, or Likes: What Makes News Posts Engaging in Different Ways," was published in Social Media + Society in the October-December 2022 issue of the journal.
It found that certain content characteristics within stories, such as surprising or sensational elements and prominent figures, were linked to more sharing, commenting, "likes" and reactions. Other content characteristics were linked to one or more of these engagement modes, but not all of them; for example, posts about health were highly shared, but not highly commented-on and liked.
"Sharing, commenting, and liking or reacting differ in the degree of expression they allow us. They can also be prompted by different types of news content," Tenenboim said. "Highly shared, highly commented-on, and highly liked or reacted-to posts can overlap, but they don't fully overlap. Based on my analysis, I suggest thinking about content units not only as more engaging or less engaging than others, but also as engaging in different ways."
Before coming to JWAM in January 2021, Tenenboim completed his PhD at the University of Texas at Austin's School of Journalism and Media. He also received his MA and BA from Tel Aviv University, and served as a news editor and the head of the news desk at Walla, a popular Israeli news site.