Jaione Belza Guede graduated from the UBC School of Journalism in 2017. She now works as the senior content editor at OneFootball, a football media company in Berlin.
Belza Guede takes us through her J-School journey, her love for sports journalism and shares the feature documentary she worked on, to highlight the importance of representation for transgender youth in media. She was part of the international reporting project 'Surviving the City' that highlighted urban resilience in China, Colombia and India.
Here's what she had to say.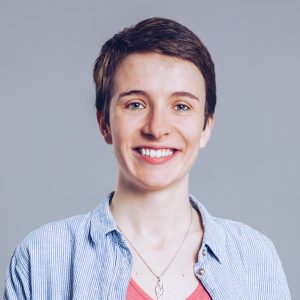 How did you come across UBC Journalism?
After my bachelor's degree in literature and linguistics, I was looking for a master's degree that would give me more practical learning and practical exits with tools to enter the job market. I came across the journalism master's program at UBC and it really appealed to me because of the hands-on courses, especially the International Reporting course. I liked the range of courses they offered, the flexibility that came with it to choose what I wanted and the fact that it's in Vancouver. So, I went ahead and applied. 
What are some J-school memories that you cherish to this day?
Oh yes, a lot! Those were some really, really good years. One thing I want to say at the beginning is about Kathryn (Gretsinger). She was amazing. She was kind, she was an expert on the field. And she really helped me thrive in what I was doing. We were also a lot of international students, so the people I met during the program, my colleagues, we became a family and these people were definitely a huge part of my life. Also, the international reporting trip to Bangalore, India was a huge highlight not only of my time at UBC, but also a story and experience that I will cherish for life.We did our reporting trip there and we organized everything. And it was just amazing. There were obviously a lot of technical difficulties out there in the field. But it was really cool, because we made it work and it was really just so much fun. And lastly, outside of university, Vancouver as a city is unbelievable. Canadians live up to their expectations of being kind and welcoming. I miss it a lot!
Do you remember any of your favourite courses while you were here ?
We did a documentary production course which was really nice because it gave us practical skills. It was super fun. We also used these skills when we went on our international reporting trip. Same with the Interviewing course with Kathryn, that was very interesting. I also learnt a lot from Steve (Woodward) in the social media course (Decoding Social Media). It was really hands-on about what we needed to learn from social media and really looking and asking, what does social media mean? We would look at different mediums and channels and were also pushed at opening our own Twitter accounts to look at different data. And lastly, the computer science course I took on data visualization. I think I loved the course because I never thought I could have done it since it felt like it was too science oriented. We learnt everything about Tableau, about maps, and how to visually represent data. Moreover, I've been using it frequently for the past year at work. So I think that's a really critical tool to learn.
Tell us something about your reporting trip to Bangalore.
As I said, this course was something I wanted to do since I joined the master's degree. Our topic was about urban resilience. We basically needed to study the impact or more than the impact, the urban resilience of cities, and how they are moving forward in terms of climate change, lack of water and so on. So we decided to go to Bangalore, the Silicon Valley of India and explore the lack of water there and how they cope with little supply of water. So we started studying the whole infrastructure of a city and got to talk to the people in charge, and we were able to make it a really heartfelt story, because at the end of the day, the people suffering from the lack of water, aren't the ones sitting in the in the bureaus, right? So we spoke to people living in very modest, humble conditions, and their fight for water at the end of the day. 
You worked on a documentary during your first year at J-School. Can you tell us something about that project?
Yeah, for sure. It was about Tru. She's now an amazing young woman, but when I filmed her, she was this kid going through puberty. The documentary tells her experience and struggles as a transgender kid growing up in Vancouver and it was an extremely powerful narrative because her family welcomed me into their life as if I were one of them. I was able to go with her to film her doctor visits, be with her at school and tell a story that is not told enough. Her parents are both beautiful people that I will keep close to my heart. And it was not only the story in itself, the interesting part was how to produce it—the long hours in the video editing room were fascinating. 
How did you come across Tru's story?
I had read an article about Tru but had no idea how to contact her or her family. And this was a 12-year-old kid back then, so I wasn't obviously going to approach her directly. But then I did some research and I found her dad on Instagram and I saw where he worked. So, I just showed up at his workplace, where he was doing a session with someone, but he was really welcoming. I presented myself and I told him what I wanted to do. And he was really kind and said "Yeah, no problem, you can come over, we'll talk to my wife and let's discuss what you want to do." And that's how this story began. Luckily, back then, we could just approach people in-person without wearing masks or anything, so it was easy to break the ice.
Why was Tru's story important to you? Did you face any challenges while covering this piece?
I think for me, it was always a question about representation. Are these stories being told? I know I am generalizing a lot here, but in mainstream media, we see the same stories being covered almost all the time. This was already three years ago. But there were very few stories on transgender youth and it's a very, very important topic. It was not difficult telling the story because I was aware that these stories needed to be told and Tru's family and herself were very open to tell the story. The challenge was more in terms of dealing with people who held extremist views who believed that it was sending a wrong message to children and just their blatant ignorance. But I was grateful to the School, who handled all these matters delicately.
You've always been passionate about football (soccer). How did you integrate that in your journalism?
Yes, football, saying soccer hurts me as I grew up calling it football, has always been a huge part of my life. So during my first year, I interned at the Vancouver Whitecaps and had an amazing time there. I got to learn a lot while I was there and covered a lot of stories on young prospect players and young football enthusiasts. 
It's also such a coincidence that Alfonso Davies played for Whitecaps back in the day. And when I moved to Europe, I found out that he signed with Bayern Munich which is one of the biggest football clubs in the world and he's had such a massive start with his career. So it's beautiful because it really feels like we followed the same path right from Vancouver to Germany. 
What have you been up to post-graduation?
I consider myself really lucky because six months before graduation, I was hired by this company, OneFootball, in Berlin. It's a football mobile application, actually the biggest football app in the world. So it was amazing, because it was really a blessing to be able to work on my international reporting project in the last term and finish my degree with a peace of mind knowing that I had a job when I graduated in April. I call it my dream job because of my passion for sports journalism, and specifically in football in Europe. I also wanted to go to Germany because I was going to be a few thousand kilometres closer to my family. So three years and four months later, I am now the senior content editor for the Spanish and LaTam markets.
As a sports journalist, what changes have seen you within the industry these past few years?
I think sports is one of the drugs of society. It's always there and people want to consume it frantically. The changes that I want to see happening is in women's sports. Football has always been talked about. But women's football has had the smallest representation ever. When I was in Colombia growing up, I always wanted to be a footballer, but I had zero representation. I never saw women playing football, so I obviously thought that was not possible and that I could never play professionally. And now, I see these little girls playing as if there were no tomorrow and they're amazing. Even if the path is still heard there are better opportunities now for them. Coverage for men's football hasn't changed much but there's been a switch and we're now gradually seeing more women's football and more representation. In my own company, we're talking little by little more about women's football and I know there's still a long way to go. But you know, it's changing slowly, not at the rate it should be but it's slowly changing towards a more equal representation, even if there's still a lot of long years ahead.
Do you have any tips or advice that you would like to share with our students?
Sure! I think that you have to follow your passion. I know, it's cliche, but if you're really passionate about something, you just have to follow it. At the end of the day, enjoy what you're doing because you can always find a way to make it work. And you always need to work hard, so find something that really interests you and go with it. I never knew that football was gonna take me anywhere in my life and maybe I'm not playing the Champions League, but at least I'm writing about it, and it has given me a job I truly love. So follow your passion and make your own path.