The School of Journalism, Writing, and Media is thrilled to congratulate alum Christopher Cheung for taking home two prestigious awards in recognition of his commitment and dedication towards community journalism. 
Cheung won the Dalton Camp Award for his essay Blind Spots, which is a powerful reflection on the importance of representation and on-the-ground community reporting in Canadian journalism.
The Dalton Camp Award is a $10,000 prize for the best essay on the link between media and democracy, presented annually by FRIENDS of Canadian Broadcasting. The award was created in 2002 to honour the memory of Dalton Camp, a distinguished commentator on Canadian public affairs. 
Cheung, who is a reporter for The Tyee, writes about urban issues, the power and politics behind urban change, and the different diasporas that make Vancouver the city it is today.
"It's titled Blind Spots because as someone who has grown up in a culturally diverse place as Vancouver, I always get really upset when I see the places that I know ignored, or misrepresented in news media," said Cheung, in an article as his response to receiving the Dalton Camp award.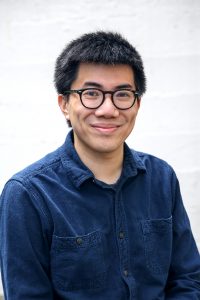 "I became a journalist to tell stories about Vancouver, only to realize we all need to do more listening. An outsider's gaze often determines who gets interviewed, and who gets ignored — and invalidated," he said on his Twitter platform, where he has gained a loyal following for his stories about the city. 
"Journalists too often portray immigrants cartoonishly, ignore vibrant suburbs in favour of hip hoods, and treat cultures as novel discoveries. I've been guilty of this myself, and it needs to change. Who'd read the news if their lives aren't represented accurately?" he said. 
The 2016 alum is also the recipient of this year's Emerging Excellence award, conferred to him at the 2021 Digital Publishing Awards. The award, sponsored by the Reader's Digest Foundation, honours an individual whose early work in Canadian digital publishing shows the highest degree of craft and promise. 
The awards committee was particularly impressed by the quality and depth of Cheung's hyper-local content with a personal touch. 
Nominated alongside Cheung for the Emerging Excellence Award was alum Anya Zoledziowski, who graduated from the School in 2018.